Looking for a one-stop solution for dental care in Rajkot? Want to attain good oral health and a better smile? With 24,000+ happy patients, City Dental Hospital is the leading dental implant clinic. We are NABH certified and awarded as the best dental hospital in India, and strive to provide you with effective dental solutions and personalized care through our patient-centered approach.
In this blog, we will dive into the City Dental Hospital's state-of-the-art facilities, technologies, and comprehensive dental treatment. We will also explore our personalized patient care and success stories and testimonials.
Meet the City Dental Hospital Team
The City Dental Hospital Team is a group of certified and dedicated professionals passionate about your dental health. With advanced training and years of experience, we are committed to providing high-quality care for your needs. Here are some of our competent and skilled team members:
Anand Jasani
Being a consultant dental surgeon and Implantologist, Dr. Anand Jasani has obtained his degree in Bachelor of Dental Surgery. He has acquired unparalleled expertise and passion for dental health with his master's certificate in oral surgery – CCOS and sophisticated and extensive training with Dr. Jeon. He has experience of 13 years in oral surgery and has a certificate in advanced implantology.
Dr. Anand has a long list of achievements and has been honored with many renowned dental positions. He has a trusted name in the dental care community and is known for his personalized approach and treatment plans that ensure the best outcome for every patient with unique needs. With technical expertise, Dr. Anand has a compassionate and warm demeanor that keeps the patients at ease.
Rashmi Jasani
Dr. Rashmi Jasani is a highly regarded Consultant Dental Surgeon and C. Orthodontist at City Dental Hospital and is renowned for her expertise and exceptional skills in the dentistry industry. She too has completed her Bachelor's in Dental Surgery and acquired a master's certificate in advanced orthodontist – CCOO. She is an award winner of the Bright Smile Bright Future Program and a life member of the Academy of Aesthetic and Cosmetic Dentistry.
Dr. Rashmi is a trusted name in pediatric dentistry and believes that every child is unique and precious. She applies an array of management skills that help and support our entire team and strives for team building. Furthermore, Dr. Rashmi is a very enthusiastic businesswoman and always gives her best to learn and grow in this domain.
Sakshi Doshi
Dr. Sakshi Doshi is our competent dental professional at City Dental Hospital with B.D.S. and M.D.S. in Prosthodontics and Implantologist. She has completed her BDS from Manipal University, Karnataka, and her masters from BBD University, Lucknow. With an experience of more than ten years in her field, she excels in Prosthodontics. 
Dr. Sakshi is proficient in staying updated with the latest technology to provide her patients with cutting-edge treatments. With her remarkable background and advanced training, she uses her attention to detail approach to provide patients with long-lasting prosthodontics results. She mesmerizes patients with her gentle nature and believes in resolving their concerns.
Nayneishwariba Rana
With a degree in Bachelor of Dental Surgery, Dr. Nayneishwariba Rana at City Dental Hospital has a strong foundation in dentistry. She has a thorough understanding of oral diseases and dental anatomy that aids her to provide exceptional dental care services to her patients. She has worked for a year at CODS, the government hospital of Sehore, and Songadh Bhavnagar, during her internship.
Dr. Nayneishwariba has taken many lecturers in different schools, underprivileged areas, hotels, companies, and clubs to create awareness towards maintaining dental health. With her expertise, she delivers comprehensive dental care to patients. Additionally, she likes to keep herself updated by regularly attending CDE programs organized by the Indian Dental Association.
Krishna Daka
Dr. Krishna Daka is one of our best dental professionals at City Dental Hospital with a master's in Dental Surgery in Periodontics and Oral Implantology. She has topped among all the MDS students in her college and stood 5th at Gujarat University. She prioritizes diagnosing and treating diseases that impact teeth's supporting structures like surrounding bone and gum.
Dr. Krishna in periodontics and surgical treatment. She has acquired extensive training in the surgical placement of hard tissue grafting and dental implants. She closely collaborates with our other dental professionals to ensure exhaustive treatment for patients with complicated dental problems.
State-of-the-Art Facilities and Technology
City Dental Hospital's state-of-the-art facilities and technology ensure comprehensive treatment for all our patients. Equipped with sophisticated dental equipment, we offer precise treatment delivery and advanced diagnostic capabilities. Our state-of-the-art facilities and technology include:
World Class Sterilization
As patient safety is our priority, we ensure our environment is sterile and germ-free. Our world-class sterilization system meets and exceeds the industry's standards. Our dental instruments and equipment undergo thorough sterilization, with ultrasonic cleaning and autoclaving that eliminate the risk of infections.
Our dental specialists adhere to strict protective measures like gowns, masks, and disposable gloves to avoid cross-contamination. We regularly maintain our sterilization system with microbiological testing that exhibits our commitment to a safe environment.
Sophisticated Technology
City Dental Hospital provides care to our patients with sophisticated medical technology. We employ cone-beam computed tomography (CBCT), lateral ceph, intraoral scanner, and in-house OPG for comprehensive and detailed images for accurate diagnostics. Intraoral scanners enable our dental specialists to elucidate the treatment options to the patients effectively. 
City Dental Hospital's laser dentistry allows minimally invasive treatment, lesser bleeding, and better healing. We have employed CAD/CAM technology in our laboratory that enables the fabrication of dental restoration with unparalleled efficiency.
Online Payment Options
We take into account our patient's convenience and offer online secure payment options. Our patients may manage their transactions and pay their bills from their homes. Online payment streamlines the payment process by reducing administrative hassle and positive patient experience.
City Dental Hospital's payment system is equipped with rigorous security measures that ensure patient privacy. Furthermore, our patients can choose the patient options that suit them the most from online banking or debit/credit cards that make their dental expenses at ease.
High-Quality Service
City Dental Hospital is committed to delivering exceptional dental care to our patients. Our experience and highly skilled dental professionals provide an exhaustive range of dental treatments. We strive to build strong connections with our patients to comprehend their unique needs and concerns.
Our dentist thoroughly listens to the patients, conducts examinations by elucidating their treatment options and plans thoroughly to make the latter informed about their dental health, and motivates them to take steps to ameliorate them. City Dental Hospital has created a friendly and welcoming environment for our patients that results in a positive experience.
International Package
City Dental Hospital extends our world-class dental care to patients across the globe with our extraordinary international packages. Travel for dental treatment is often overwhelming. We have designed an international package to deliver a seamless and thorough experience for our patients.
Our international dental package includes visa assistance, guest house accommodation, food accommodations, and special considerations for our international patients. With our top-notch infrastructure and ten years of expertise, you can save up to 50% of your dental procedure costs. 
Comprehensive Dental Treatments
City Dental Hospital provides comprehensive dental treatment plans and options that cater to every oral health needs. We are dedicated to providing holistic and exceptional dental treatment for your healthy and beautiful smile. Some of our dental treatment includes:
Dental Implant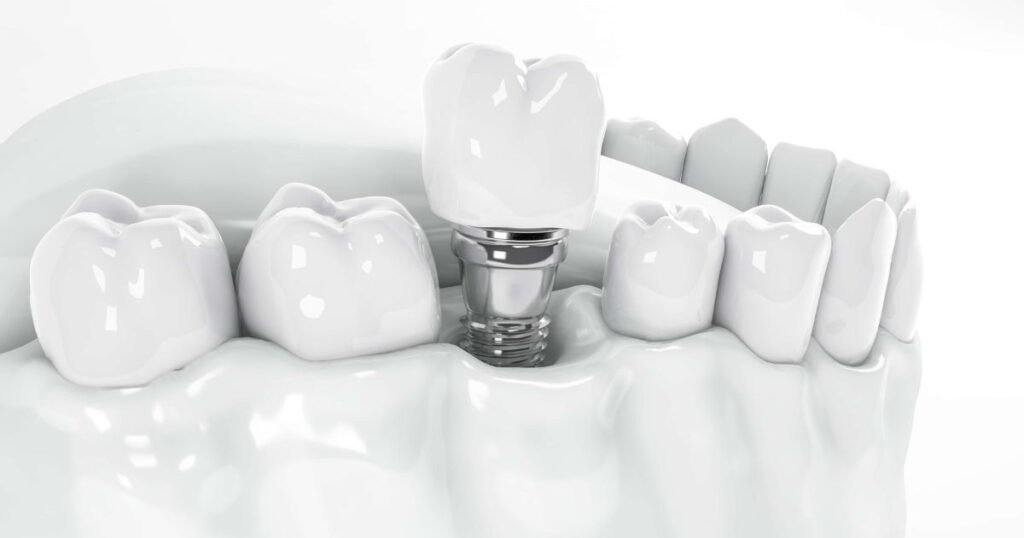 A dental implant is the treatment option where missing teeth are replaced. A dental implant is inserted into the jawbone below the gum line which makes it look natural. We provide the best dental implant solutions to our patients that restore the aesthetics and function of their teeth.
City Dental Hospital employs implant practices that meet high-quality standards that include an artistic mind and a surgical genius. Since every patient has unique needs we tailor personalized treatment plans that meet every patient's needs.
Full Mouth Rehabilitation
In full mouth rehabilitation, every tooth of the patient is replaced or reconstructed. We offer full mouth rehabilitation services to our patients who face dental damage or issues. Our dental professionals thoroughly evaluate the patient's dental health, jaw function, tooth structure, and bite alignment. 
Furthermore, City Dental Hospital creates a comprehensive treatment plan that restores the patient's oral function and health. In our full mouth rehabilitation treatment, patients are exhaustively informed about the possible treatment plans that result in their balanced and harmonious smiles.
Invisible Aligners
Invisible aligners are the modern approach to straightening teeth. Our aligner trays are made of smooth, and virtually invisible plastic that you wear over your teeth. Its trays will gradually move your teeth into place with exact movements.
City Dental Hospital devises a personalized treatment plan for our patients to create aligners that perfectly fit them. The structure of our personalized invisible aligners enables them to maintain flexibility and easy oral hygiene without any restrictions. These aligners are aesthetically pleasing and ameliorate the oral health of the patients.
Crowns and Bridges
Most of the crowns and bridges are fixed prosthetic devices that are cemented onto existing teeth. We specialize in durable crowns and bridges that restore missing or damaged teeth. Our dental crowns are custom made that protect and ensure the function of our patient's teeth.
City Dental Hospital's sophisticated dental crowns and bridges are made from such material that matches the patient's teeth. Our competent dental professionals ensure flawless bite and fit alignment of these crowns and bridges that aids patients regain their beautiful smile.
Teeth Whitening
Teeth whitening treatment whitens and lightens the patient's natural teeth. We provide professional teeth whitening treatment to restore and enhance the appearance of stained and discolored teeth. We employ a variety of methods for restoring a bright white smile including porcelain veneers, composite bonding, and whitening, also known as bleaching.
City Dental Hospital's teeth whitening treatment employs an effective whitening agent that penetrates the enamel. With our unique treatment procedure, our patients attain a dazzling smile that leaves a positive impression. 
Personalized Patient Care
City Dental Hospital prioritizes personalized patient care. Our treatment includes exhaustive consultations with expert dentists who devise plans to meet every patient's needs and preferences. Our personalized patient care is mainly derived in three steps:
Thorough Assessment of Your Dental Health
Regular dental examinations are essential to maintain good dental health and avoid any dental problems. During your dental examination, our dentists evaluate your oral hygiene by identifying possible problems. A tailored checkup is the first step in our personalized patient care. City Dental Hospital's dentists review your dental history and examine your dental habits to make the best recommendations.
We've created a warm and welcoming environment of trust for our patients. Our dentist treats your dental diseases and issues with preventive treatments and follow-up care. During our personalized checkups, our dentists explain the treatment and procedure options as well as answer your questions and concerns. Transparency helps our patients make better-informed choices about their oral care.
Customized Approach To Your Dental Care
Dental treatments include cavities, cosmetic enhancements, gum disease, and many more. Our dentists devise personalized treatments to meet your needs and keep up with your preferences. It includes comforting and minimizing any pain before, during, and after the treatment.
Our dentists employ various gentle and non-painful treatment options to make sure that you have a positive dental experience. We assure our patients that their treatment is in safe hands. We remain transparent and communicate thoroughly during the procedure.
Continuity of Care and Your Well Being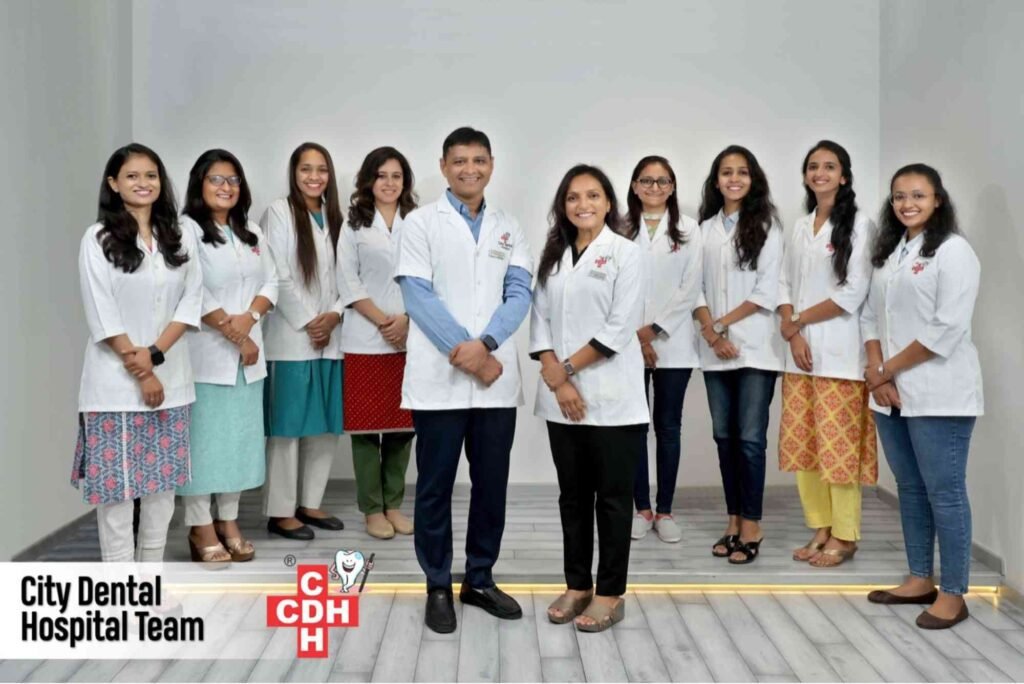 Our commitment to your oral health and overall well-being is reflected in our after-treatment support and guidance. We offer you post-treatment advice and instructions to maintain your oral health at your home, reduce dental complications, and increase your trust in us.
We believe that gestures, such as a telephone call or an email to ask about your comfort after treatment and how you are feeling post-treatment, can be very effective. The follow-up after treatment strengthens the relationship between you and us, resulting in a positive experience.
Success Stories and Testimonials
City Dental Hospital has a collection of heartfelt testimonies and success stories from our satisfied patients. Such narratives exhibit our commitment to unapparelled dental care services. For instance, in one case, we treated a patient in just ten days whose root canal was fractured. Our professionalism and friendliness together with the flexibility and attention with which we treated our patients, help them to combat their dental issues and concerns.
In another instance, we treated one of our patients who had trouble chewing and talking. With our comfortable environment and specialized treatment, she got relieved from her dental anxiety but also completed her treatment without any problem.
Similarly, we aided one who has to undergo 15 teeth extraction in one sitting together with a full mouth implant. After the treatment, she acknowledged that it was completely painless with fast and accurate results. With success stories like these, we have transformed many smiles and helped our patients with dental experiences like never before.
Dental Care for the Entire Family
City Dental Hospital provides comprehensive dental care tailored for each family member. With our commitment to excellence, sophisticated technology, and holistic approach, we offer dental care services for the entire family that includes:
Child-Friendly Dentistry
We are dedicated to encouraging long-term dental health from an early age. We have medical pediatric dentistry comfortable for every young patient, and we are committed to their dental health from early age to adolescence. Our expert dentists have the training and experience to look after a child's teeth, gums, and mouth at all stages of development.
We cater to their unique needs, and education, and focus on preventive care. This approach highlights the children's potential dental issues by establishing a strong foundation for good oral health practices.
Comprehensive Care for Teens
We understand that teens encounter unique dental challenges posed by their hormonal changes, growth, and ever-changing dental care routine. We cater to all their needs including guiding them on the best oral health practices, managing their wisdom teeth, and addressing orthodontic issues.
We guide them meticulously and ensure they sustain healthy smiles when transitioning into adulthood. Our care and guidance aid them to navigate their dental care journey and ensure lasting and vibrant dental wellness.
Tailored Adult Dentistry
We serve as a lifelong companion of the people in their dental wellness throughout their dental years. We offer adult dentistry services that include preventive care with transformative cosmetic treatment. Our comprehensive dental care approach enables them to receive exhaustive dental care under one roof.
We foster a radiant and confident smile in them and are dedicated to their self-assurance and well-being throughout their life. With our personalized approach and tailored treatment, we redefine adult dentistry and foster exceptional dental health.
Geriatric Dental Care
As we continue to age, oral health becomes a prominent aspect of our well-being. Keeping the dynamic needs of the seniors in mind, we provide specialized geriatric dental care to them. We offer tailored dental solutions that address the distinct challenges seniors face at their age.
We expertly manage dental issues like tooth loss, tooth sensitivity, and gum disease and ensure that seniors have a restored functional smile. We promote their well-being and ensure that they age with good oral wellness and confidence.
Cosmetic Dentistry
We offer many cosmetic dentistry solutions that meet the smile aspiration of every family member. Our application includes transformative smile makeovers with teeth whitening treatment that employs sophisticated technology. With our innovative solutions, we meet the aesthetic smile needs of the family with fostered self-esteem and confidence.
We ensure the highest standard of care with dental advancements. Our state-of-the-art dental technique surpasses aesthetics and fosters a feeling of self-assurance in the patients. With our wide range of cosmetic dentistry solutions, we enhance their smiles.
Conclusion
City Dental Hospital is your partner in attaining exceptional oral health. We offer many dental care services and are committed to excellence that enables us to meet your dental needs all under the same roof. With our sophisticated technology, expert team of dentists, and patient-centered approach, we deliver the highest standard of care. Experience high-quality dental care convenience with City Dental Hospital – your stop solution!