No doubt that losing teeth has a significant impact on your smile's looks also create functionality issues. It may put a severe dent in your self-confidence. According to recent research, dental professionals use the foremost standard solutions to deal with these problems are Dental Crowns and Dental Bridges.
While both dental approaches fundamentally address equivalent challenges. If you are trying to find the proper solution for missing teeth, it's essential to know that these are the best treatment options available. It is also crucial to understand what each entails before deciding if it's right for your specific needs.
Here's what you would like to understand about Dental Crowns and Dental Bridges then find what's best for you.
Dental Crown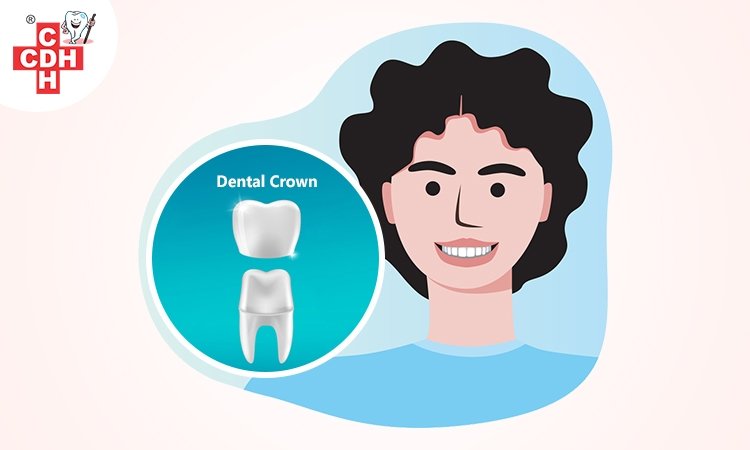 A crown may be a cover or "cap" that dentist can put over a tooth. The crown helps restore the tooth into its standard shape, size, and performance, aside from making the tooth stronger or improving the way it's.
Following are a few reasons you'll need a crown:
You've got a cavity that's overlarge for a filling.
Lost tooth
The Pros –
Strengthen a tooth that has been significantly weakened by decay
Protect a tooth that has worn faraway from being destroyed further
Protect a tooth after a passage procedure
Hold a severely cracked or broken tooth together
Cover an implant
Enhance the looks of a tooth by modifying its shape or colour
The Cons –
Tooth sensitivity could also be an increasing problem
When biting down, pain is most frequently caused by the crown being too high and obstructing the teeth on the other jaw.
Crowns may sometimes become chipped, particularly those made from porcelain.
Rarely, an allergy may occur to porcelain or one among the metals wont to form the crown.
Expensive
Dental Bridge
Dental bridges fill the gap created by one or more missing teeth. A bridge is formed from two or more crowns for the teeth on either side of the gap, and these two or more anchoring teeth are called abutment teeth. Natural teeth or implants support dental bridges.
The Pros –
Restores your smile
Revive the power to chew properly
Correcting your speech and pronunciation
Maintaining the form of your face
Re-adjusting your bite to distribute the force once you chew properly
Prevents your remaining teeth from moving out of the right position
The Cons –
The salubrious abutment teeth on either side of the gap that hold the pontic in situ may become damaged in some cases.
The structure of the teeth may vary following the location of the bridge.
The supporting abutment teeth have inadequate strength to carry the bridge and consequently collapse. In severe cases, the
abutment teeth may eventually get replaced by dental implants.
Finding the proper Choice for You
The most important thing you'll do to make sure you discover the proper treatment for your missing tooth is to speak to your dentist about what options could also be right for you. Your trusted dentist can carefully weigh all of your situation's specific considerations to form an appropriate recommendation for you.
Your dentist will want to supply you with the proper solution, which will be as gentle as possible while providing years of continued use.
Experience the highest dental healthcare standards with state-of-the-art-technology, durable bio-friendly materials that focus on all preventive, painless, and cosmetic dental procedures in Rajkot at City Dental Hospital. With the years of experience, we are committed to providing patients with superior dental health and a complete range of services to give you a smile that you deserve.
At City Dental Hospital, the top Dental Hospital in Gujarat, we offer flexible timing, individual attention, affordability, accurate explanation of treatments, and excellent patient care. Here, we follow strict and stringent hygiene protocols.